The Erie County Dept of Health is at it again. This time the Holiday Twin Rinks in Cheektowaga was shut down by order of the Health Commissioner.
The order is effective immediately and signed by Health Commissioner Dr Gale Burstein. Burstein has made headlines as she's made over $166,000 in overtime pay, while shutting down businesses, like this one.
Holiday Twin Rinks, which is located at 3465 Broadway St in Cheektowaga, houses thousands of hockey games each year, primarily youth sporting events.
The rink was hosting a scrimmage for a youth travel team at the time of the shutdown.
The order requires them to immediately close and cease all operations. Additionally it states they must consult with the Health Department for further instructions.
As of October, the health department had issued violations to 277 establishments in Erie County, with more being issued since, including the shutdown of The Cowboy on Chippewa and The Clinton Bar and Grill in West Seneca.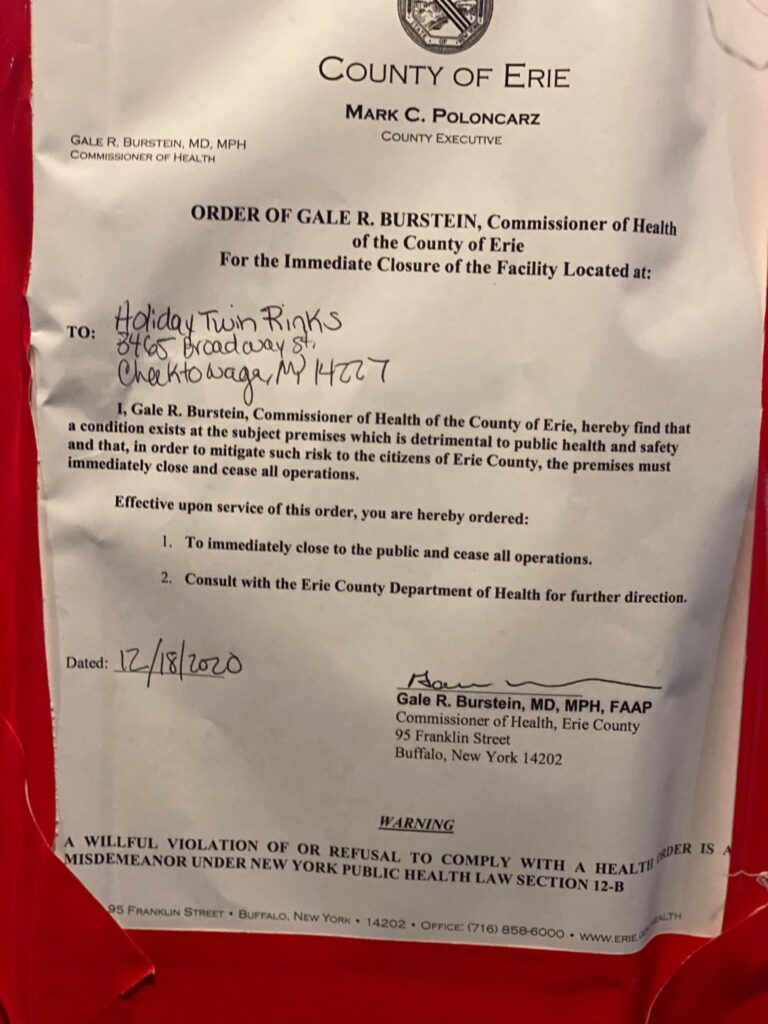 Update: 11:54am 12/19/20
Statement from ECDOH:
"Our office of epidemiology school team has received multiple, recent results of COVID-19 cases among coaches, parents and youth hockey players, along with accounts of hockey scrimmages being played. ECDOH public health sanitarians are conducting inspections of sports facilities based on these reports and complaints.
Our department is reminding sports facilities directors, and youth sports coaches and families that NY Forward guidance for sports and recreation is still in effect. Teams for high-risk sports are not permitted to participate in competitive team practices, games, meets, matches, scrimmages (e.g. organized leagues, pick-up sports), or competitive tournaments of multiple games, meets, matches, or scrimmages requiring travel."